New England coastal style puts a little bit of starch into breezy beachside living. Informed by its East Coast design heritage and with a strong maritime flavor, the look features deep navy alongside dress-shirt white, plenty of nautical motifs (more Admiral of the Fleet than jaunty 'hello sailor') and a certain shipshape elegance – so it's ideal if you're looking for a coastal take on blue room ideas for your home.
The smart, uniform decor suits any property, whether that's a beachside condo or an urban duplex. Just remember that any seaside location promises escape and new horizons, so always add a sense of ease and clubby relaxation into your New England coastal style schemes.
New England coastal style: land the nautical trend
'New England coastal style is heavily influenced by nautical themes. Materials like jute, driftwood, and shiplap are commonly used and evoke the sense of being on a beach or fishing wharf,' explains Grace Baena, Interiors Curator of Kaiyo. 'Even fixtures that are typically found in modern naval ships, such as cargo lighting and industrial chairs, are utilized in homes that follow this design.'
Whether you want a Cape Cod living room or you're simply search for coastal decor ideas to inspire the remodel of your home, we've spoken with experts and interior designers to find out the fundamentals of New England coastal style.
1. Nail the nautical influences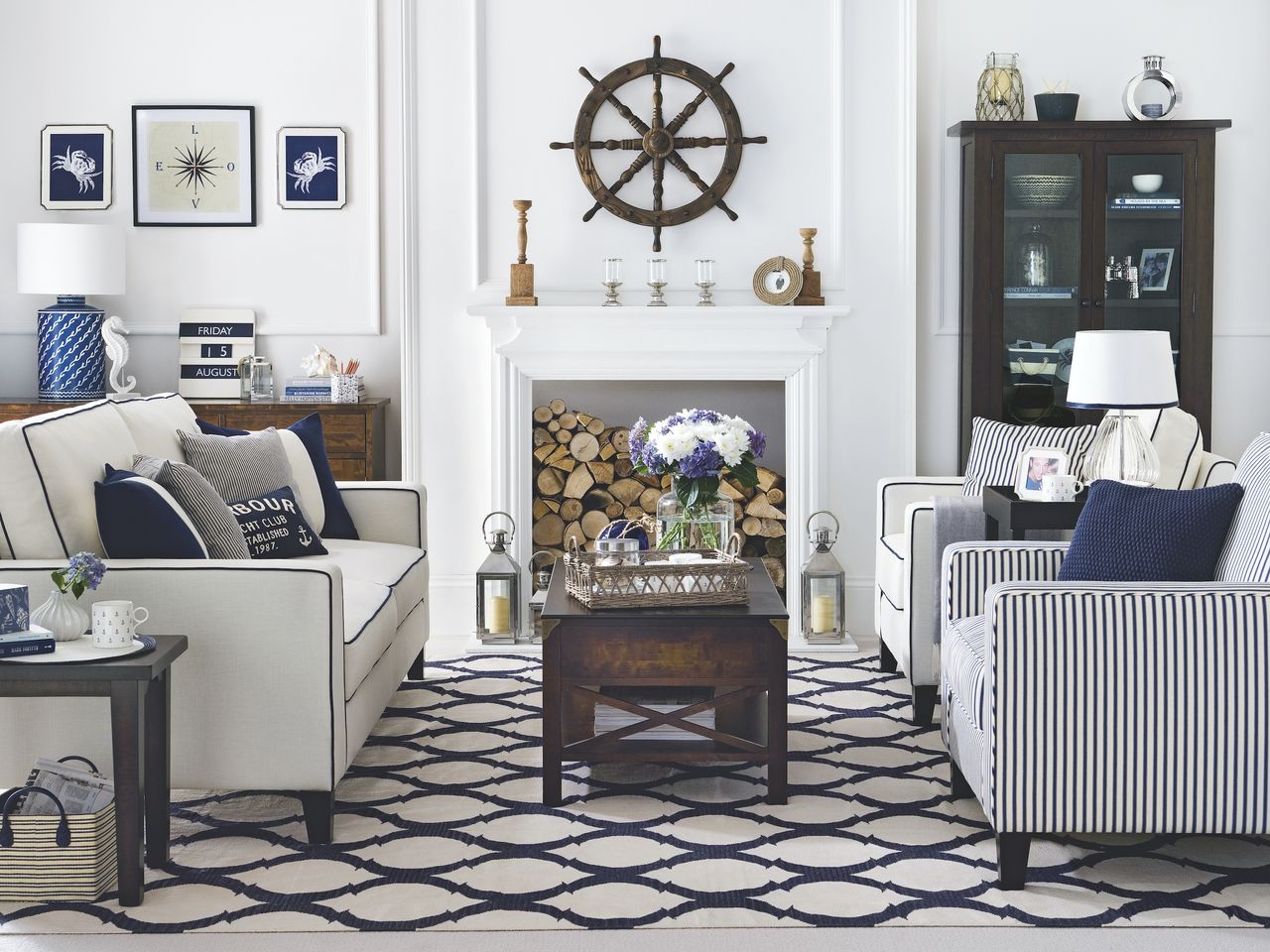 Navy blue, sea-foam white, nautical stripes and seafaring motifs – from compasses and anchors to ships' wheels and bells – all figure in New England coastal style.
'There's a definite lean towards nautical motifs in traditional New England coastal decor,' says Kaitlin Madden, Executive Editor, homesandgardens.com. 'The look is preppy, with lots of blue and white, and antiques mixed in.'
Keep the style light and contemporary by incorporating a mix of patterns and a curated blue and white color palette, grounded with dark wood and glints of brass and chrome.
2. Go light and luxe in the kitchen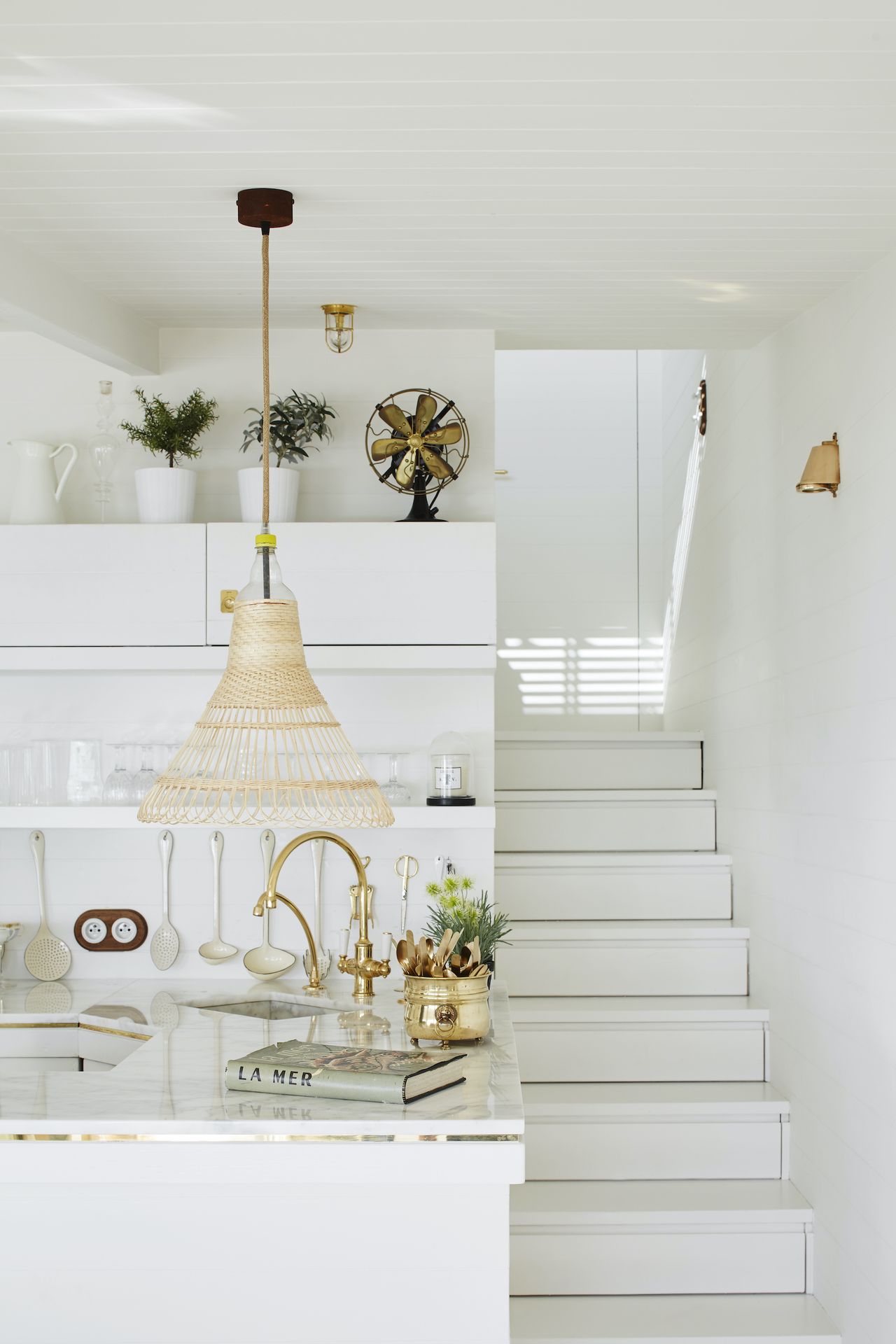 In this small seaside cabin, the cabinetry and use of space has been inspired by boat cabin design. 
'Everything was bespoke so as to include practical and functional storage – there's a cupboard under the bed and drawers built into the staircase,' explain designers Emil Humbert and Christophe Poyet of Humbert & Poyet.  
'All the materials used are natural, with reclaimed marine wood paneling throughout the cabin. The combination of brass fixtures and Carrara marble in the kitchen adds a touch of discreet luxury.'
3. Aim for easy elegance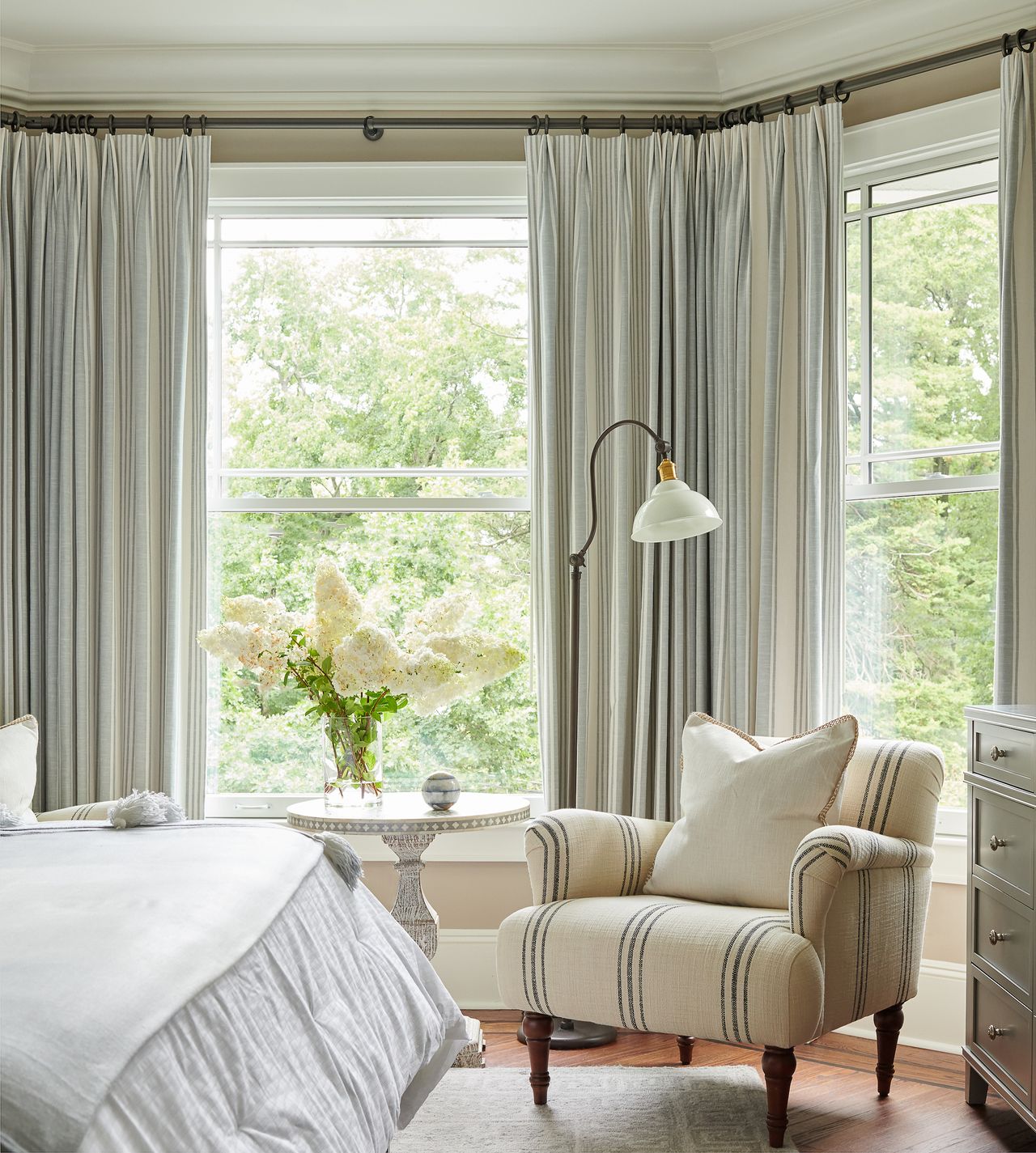 A coastal home can feel like a sanctuary and escape from everyday life, so layer in soft furnishings, plump cushions and plentiful fabric to accentuate the air of ease and relaxation.
'Textiles should be natural and have inherent texture – slubby linens, crisp cottons, soft comforters,' explains Andréa Childs, Editor of Country Homes & Interiors magazine. 'Introduce subtle pattern and details such as ruffles and gathers, to bring a luxurious touch.'
4. Use mirrors for decoration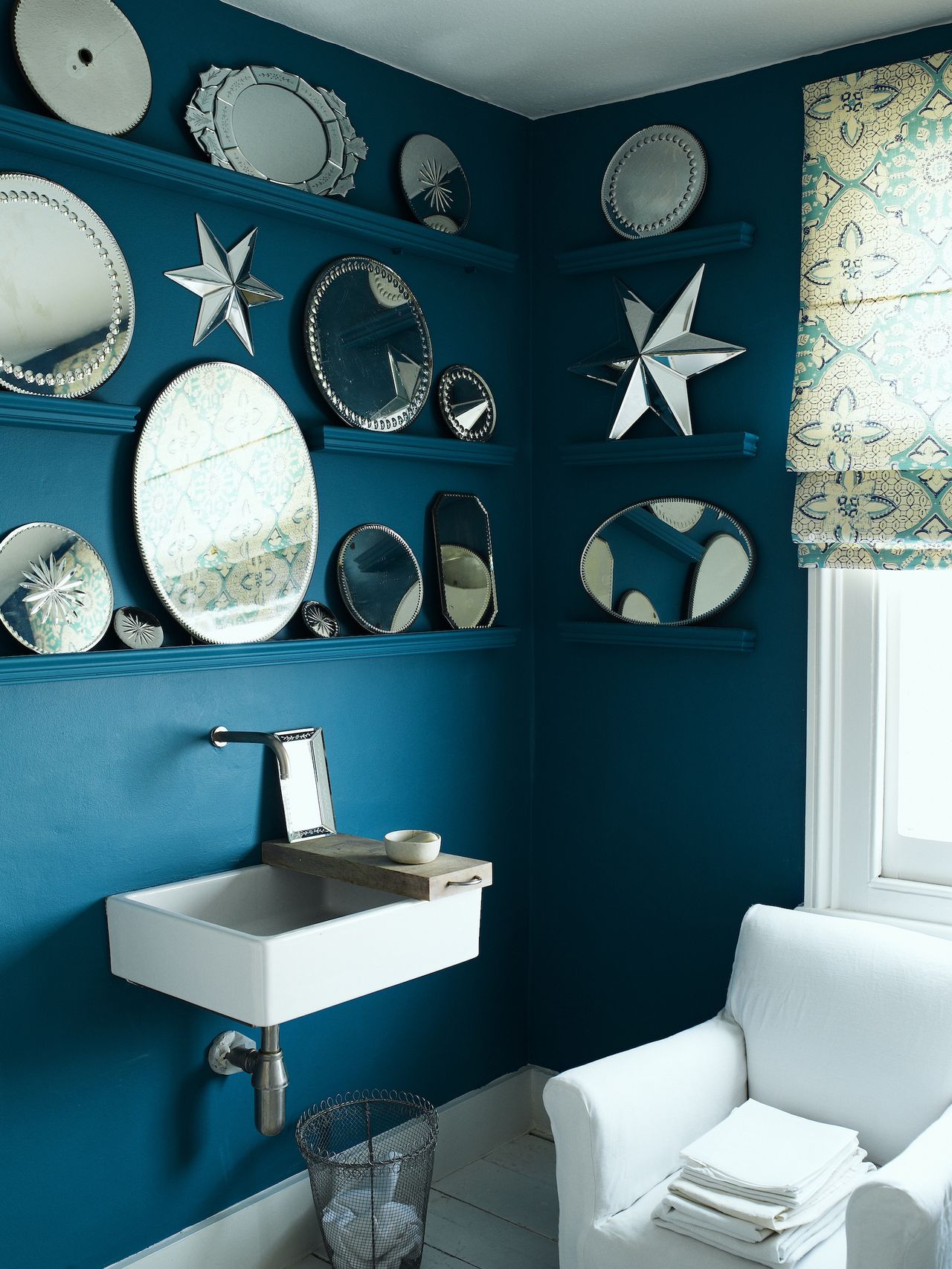 Shining against a dark blue wall, these reflective 'portholes' bring interest to a simple New England coastal style bathroom.
'Decorating with mirrors will add instant glamor and interest while also increasing natural light and maximizing the sense of space in your home,' says Jennifer Ebert, Deputy Editor (Digital) of homesandgardens.com.
For extra design credentials, you could intersperse the display with shells or resin coral shapes, to enhance the seashore theme.
5. Brighten up a deck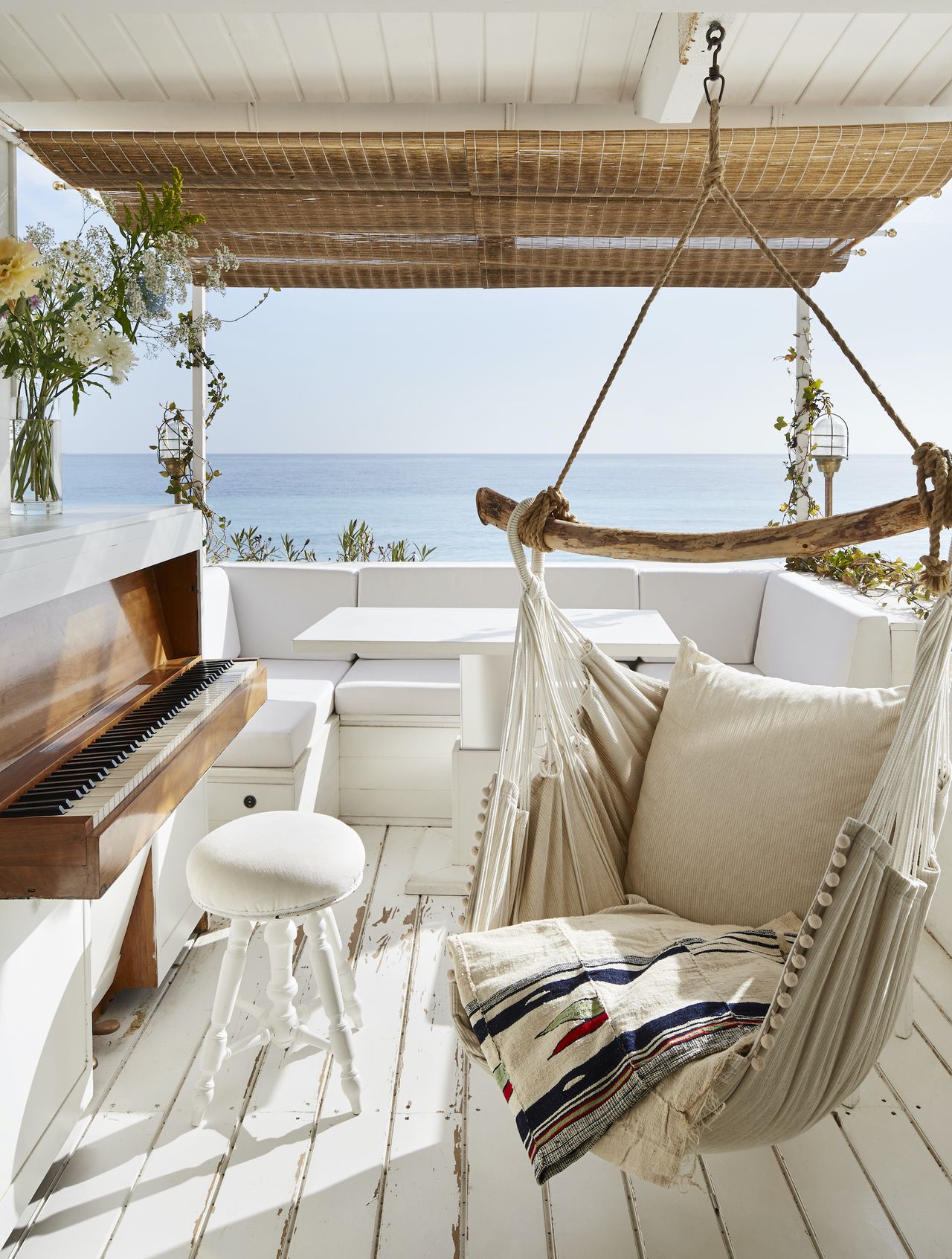 Transform deck ideas or front porch ideas to create an outdoor space filled with New England coastal style. For this feelgood terrace by Humbert & Poyet, the designers aged larch flooring with white paint, then added a custom bench and table to make the most of the small space.
The rush covering on the ceiling, and driftwood hanger for the chair, add a toes-in-the-sand, easy breezy feel while still remaining elegant.
6. Sit down on stripes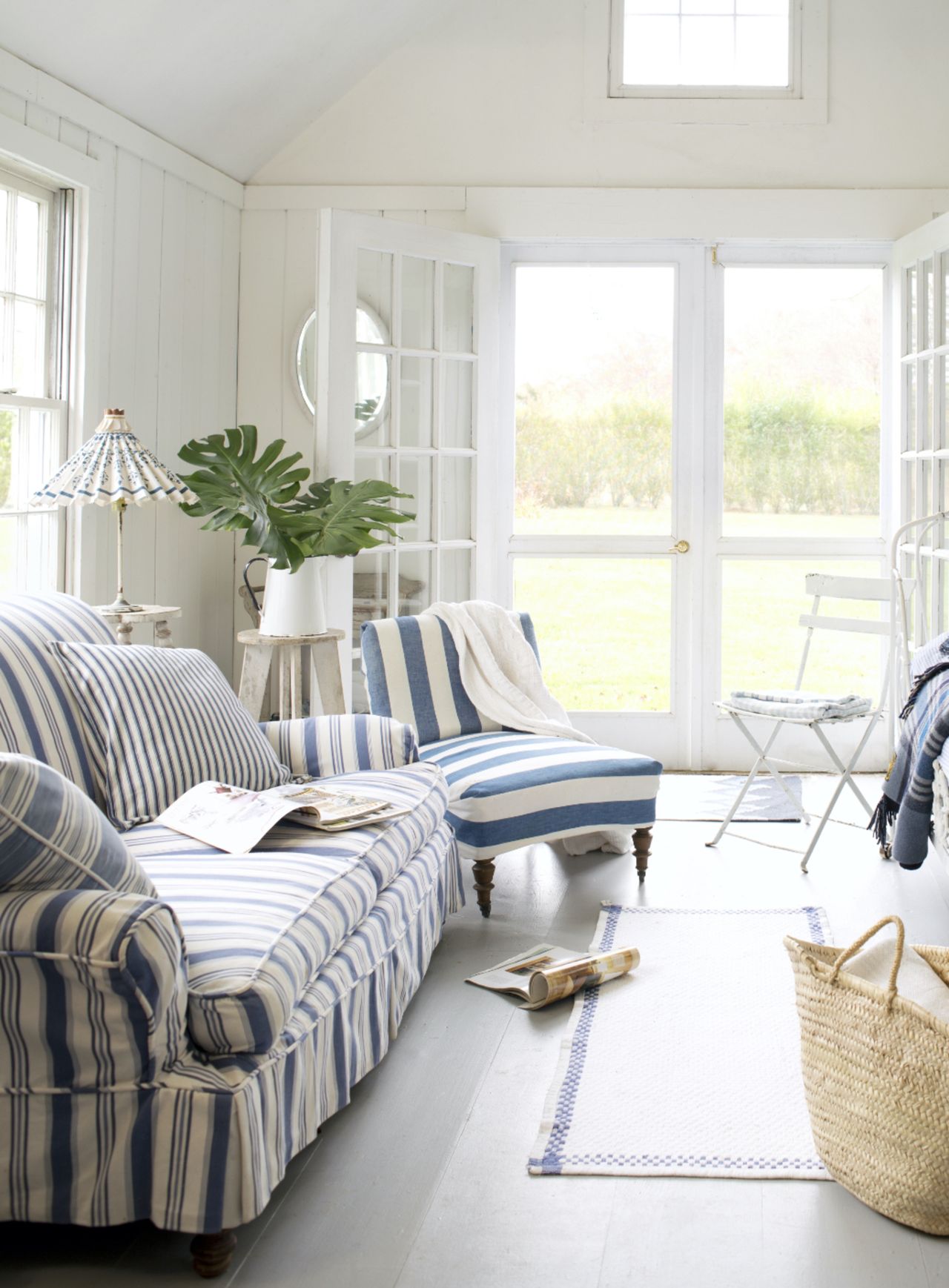 Reminiscent of ice-cream parlor awnings, swim towels and cheerful beach umbrellas, blue and white stripes are a key component of New England coastal style. 
You can decorate with stripes across your interior furnishings and accessories – for drapes, blankets, lampshades and even dinnerware – but a blue and white stripe sofa ticks all the nautical style boxes.
Switch up between broad and narrow, horizontal and vertical stripes, for a contemporary spin on this perennial trend.
7. Put up panelling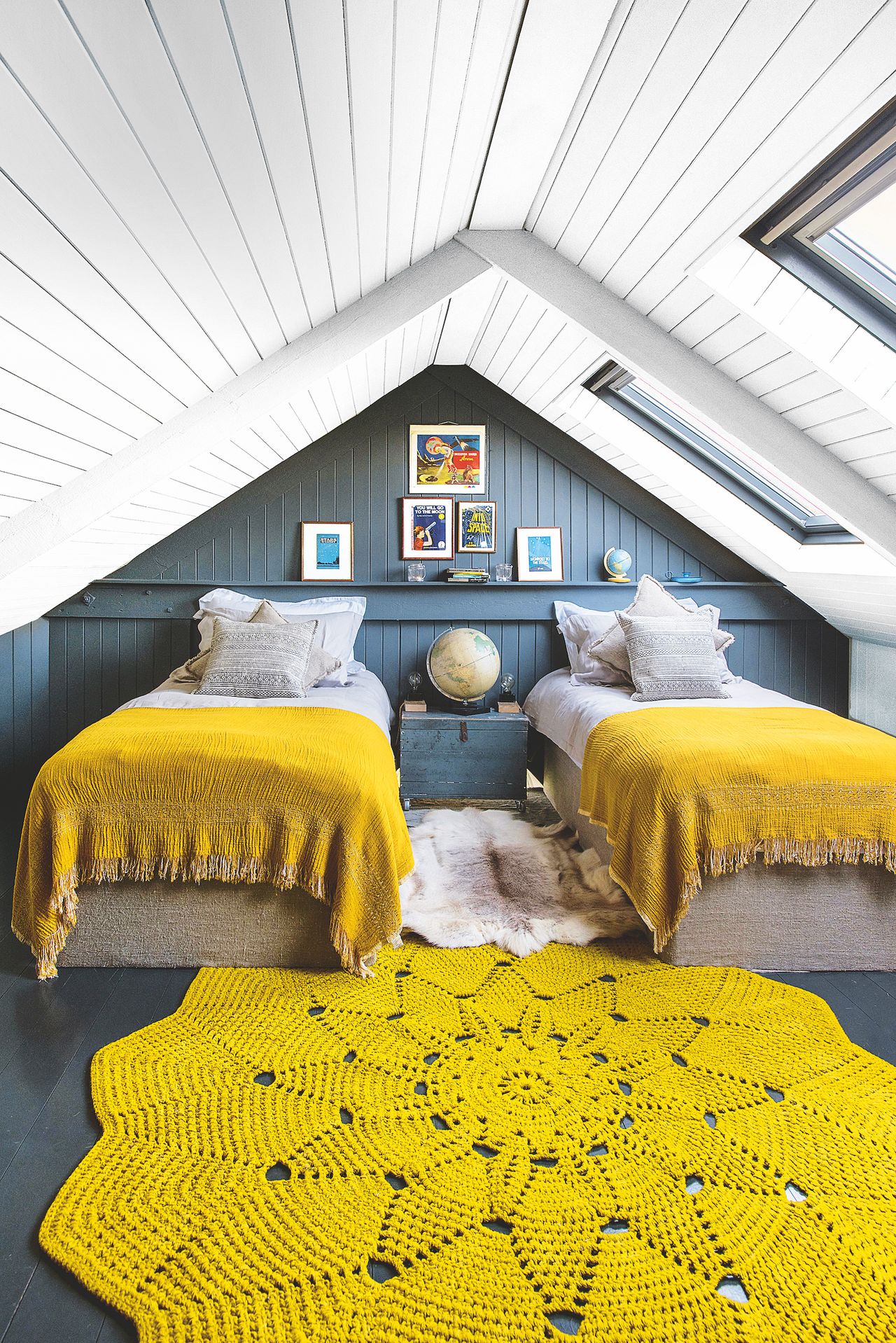 Shiplap panelling can be found both inside and outside New England and Cape Cod houses – or any property leaning into a beach-inspired look.
'To create a quaint, New England coastal style home, go for wainscotting or panelled walls,' suggests Amy Stansfield, Content Creator at Wallsauce. 'If you are handy at DIY, use a level, spare wood and saw to create your own panelled wall and paint it afterwards to create the desired effect. Alternatively, opt for an easy to use panel effect wallpaper.'
You could introduce paneling ideas for walls, or take the look up to the ceiling. Here, the white painted ceiling helps to the small roof space appear more airy, while using a deeper navy color on the low walls brings a comforting depth appropriate for a bedroom.
8. Be inspired by coastal colors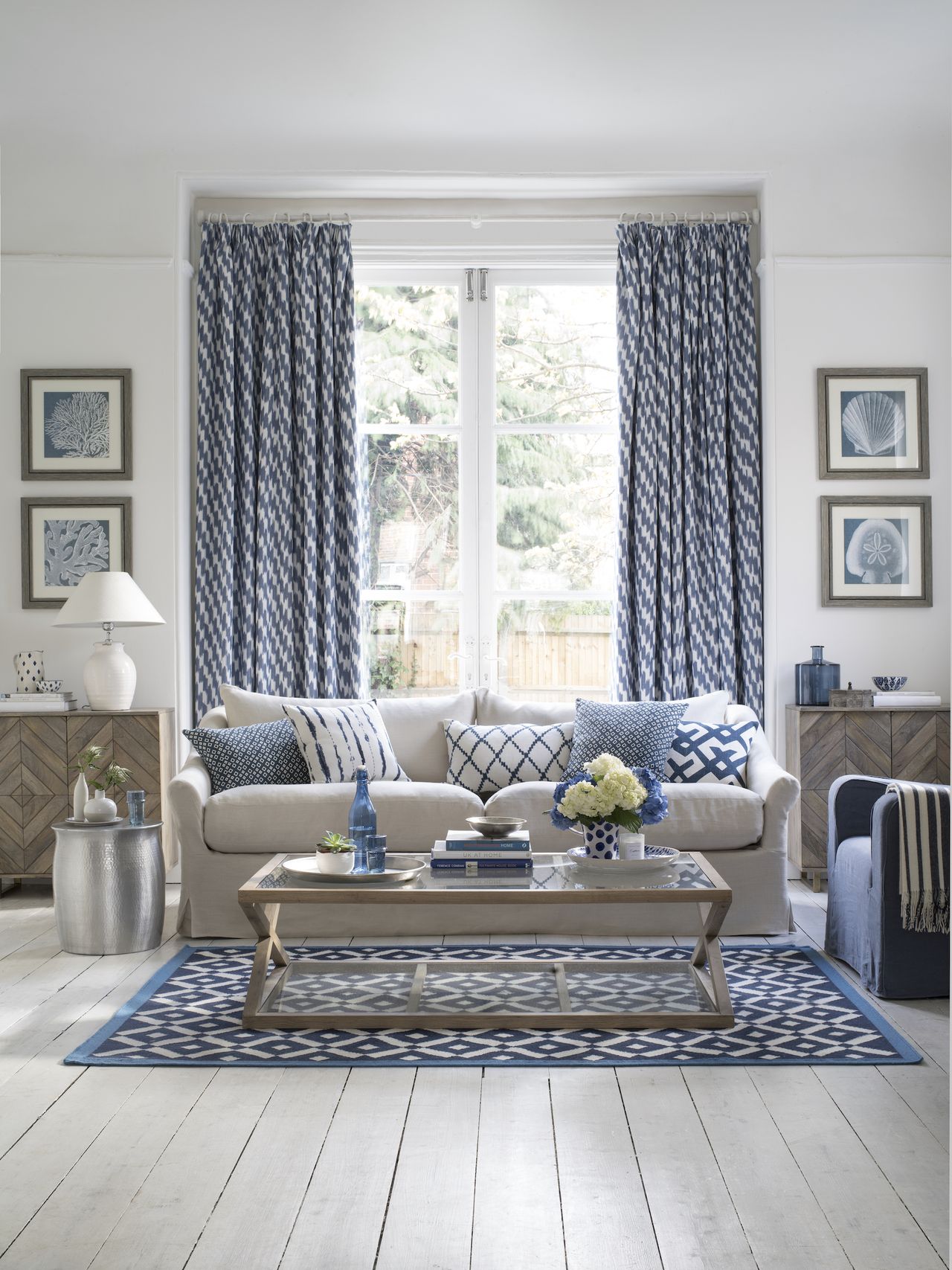 Whether you opt for a full-on nautical look or introduce a more subliminal take on New England coastal style, the fundamentals are the same.
'The New England coastal style is achieved by using natural materials such as wood, stone, and metal to create a rustic look,' explains Lily Wili, Founder of Ever Wallpaper. 'This style also incorporates neutrals such as whites, grays, and blues to create a calming atmosphere. Furniture and decor are often simple and understated, allowing the natural elements of the room to take center stage.'
9. Incorporate antiques and elegant details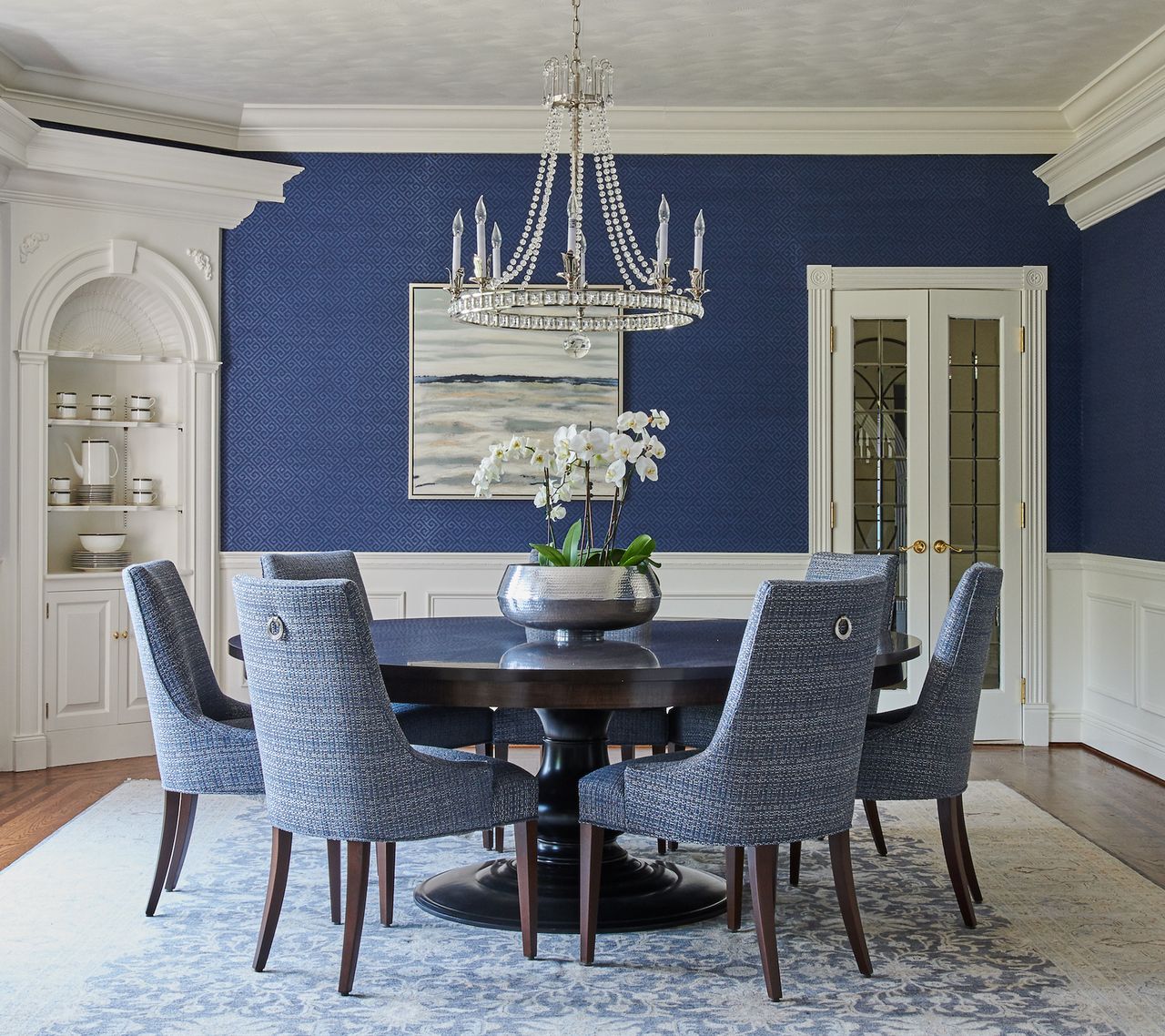 This blue dining room illustrates the elegance of New England coastal style.
'This look is more of a feeling than an exact formula for design. It's a mix of laidback luxury, historical charm and modern-day touches that create an overall calm and approachable environment, evocative of the way people live when near the beach or a body of water,' says Georgia Zikas of West Hartford-based Georgia Zikas Design. 
'There is an overall easiness to the design, with no fuss and an emphasis on liveable fabrics, furnishings, and color palettes. I love to bring the outdoors in when I work on coastal projects in New England – be it through color, pattern or texture. This, alongside the incorporation of antiques or any pieces that connect to the history of New England, creates a truly unique and inviting design.'
10. Dive into pattern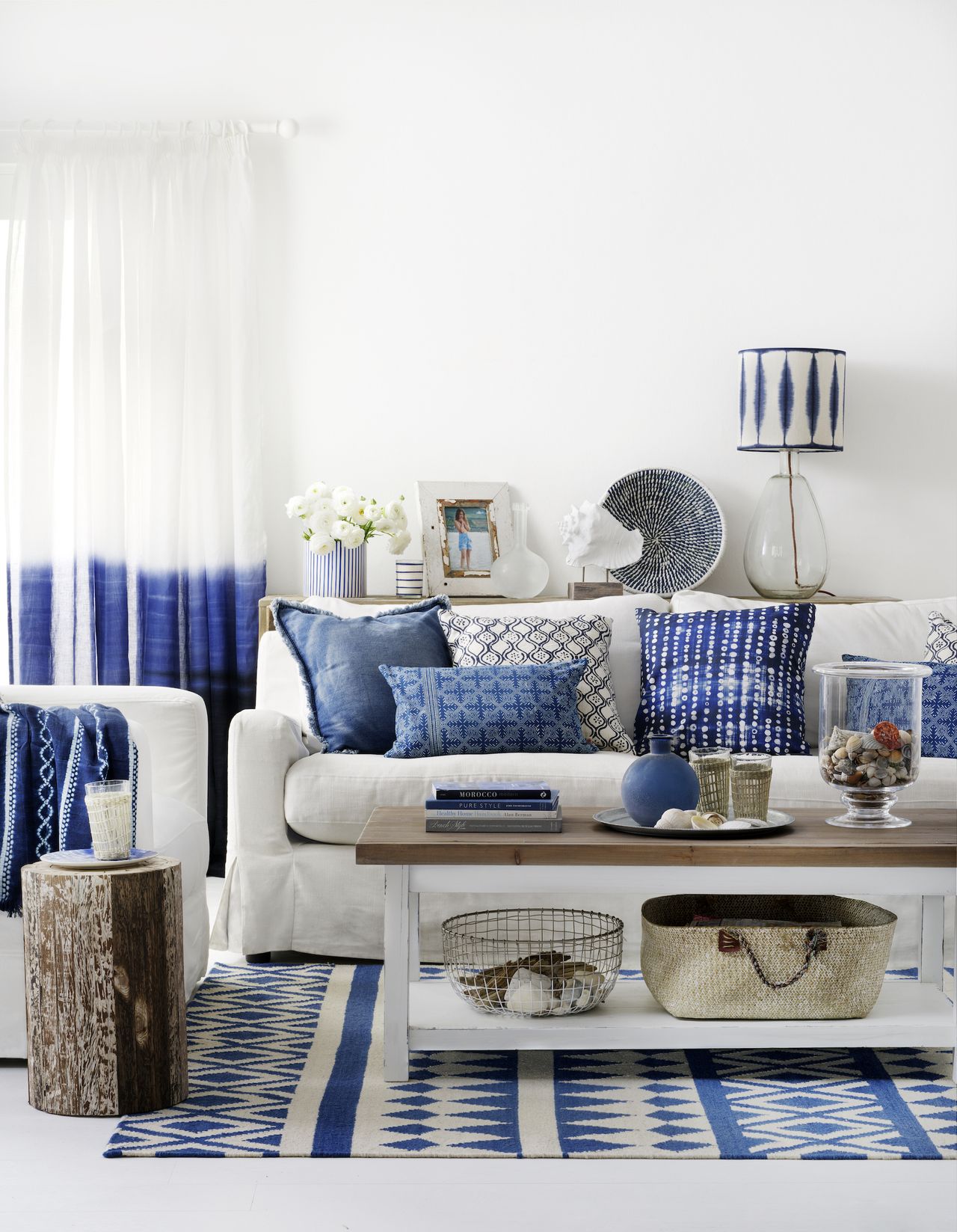 'It's essential to incorporate quintessential tones of greens, blue, grays and neutrals, mixed with patterns on textiles and wallpaper,' says Nantucket designer Donna Elle, Founder and Principal Designer at Donna Elle Design. 'Shades of hand-rubbed stains and varying treatments of pigment on walls, floors and ceilings connect with furnishings and window treatments to create a holistic design.
Donna suggests choosing performance fabrics in varying degrees of stripes and solids, designed with large embroidery prints, smaller hand-block patterns on linen and customized colorways in varying scales. 'Together, they lend to the joyful execution of a well-balanced symphony.'
12. Focus on furniture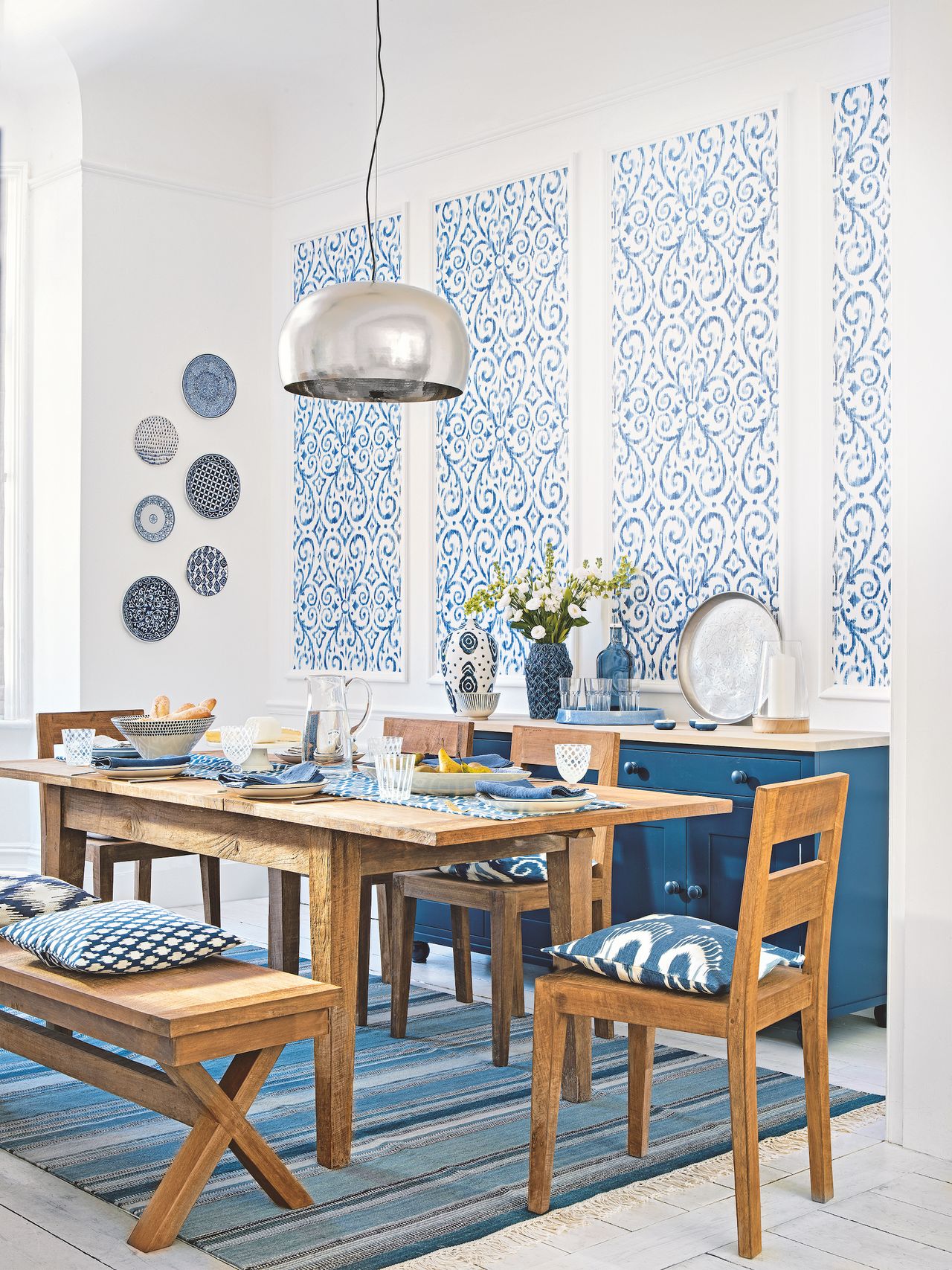 For a New England coastal style scheme with a strong sense of identity, think about how the lines, form, color, texture and shapes of each element in the room work together. 
'Considerations include interior components such as cabinetry for kitchens, baths or storage, case goods such as coffee tables, headboards or desks, built-ins for nooks and bookcases and mantles,' suggests Donna Elle of Donna Elle Design.
Then there are the materials themselves, including bead board, V groove, shiplap, board and batten, baseboard and ceiling moldings. 
'These elements capture attention and range from painted surfaces, faux painted or stained treatments for glazing, and work in synchronicity with smooth and reflective marble counter tops that dance light across its surfaces,' Donna says.
13. Choose surprising storage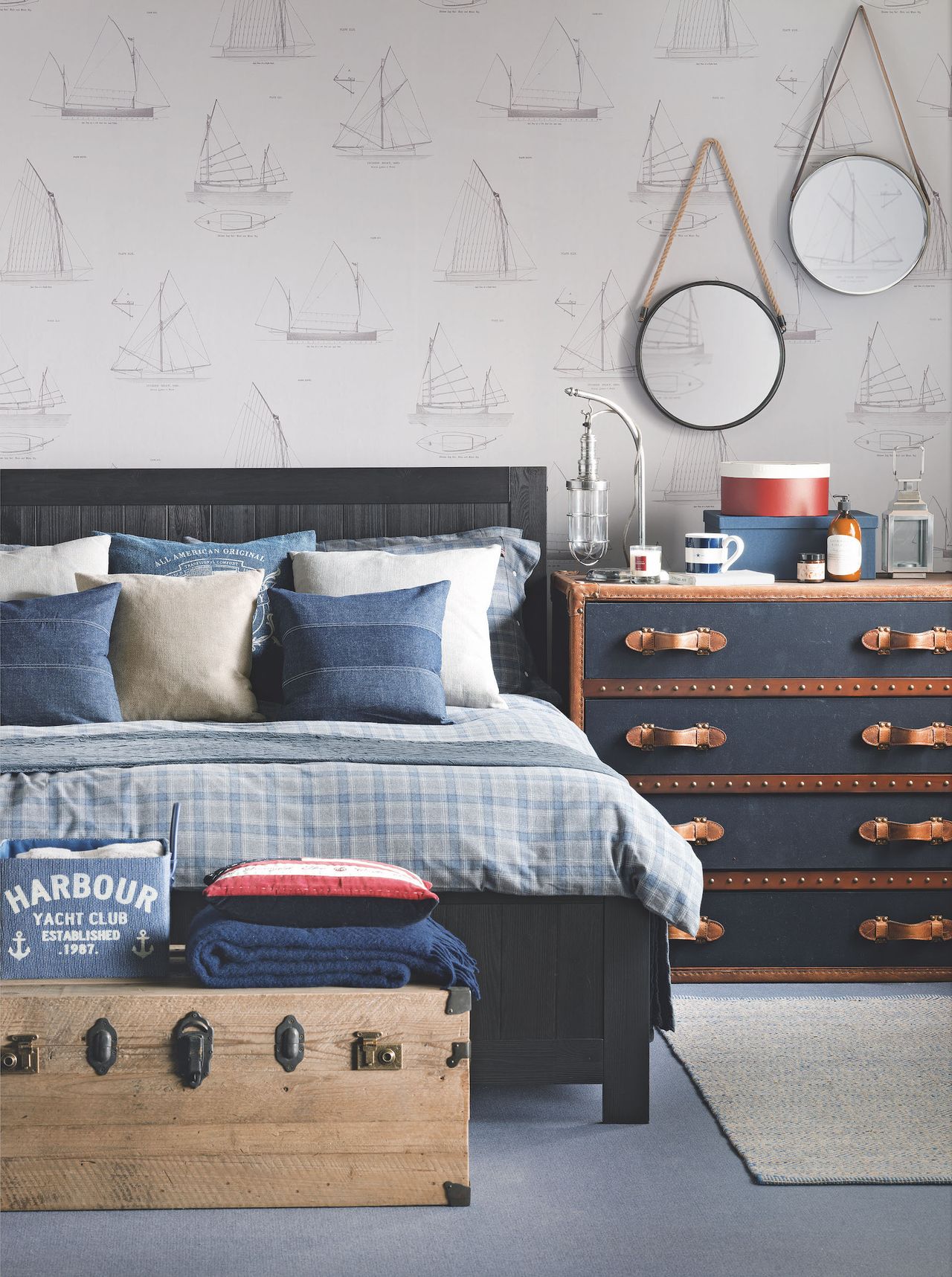 Storage ideas, including rustic trunks, metal cases and wooden lockers all bring a nautical vibe to a bedroom or mudroom, while providing plenty of space to stash away clothes and clutter.
'You could also customize an existing chest of drawers or closet with a coat of navy paint, leather handles and brass tacks or beading,' suggests Andréa Childs, Editor of Country Homes & Interiors.
Accessorize with rope-hung mirrors and yacht-print wallpaper.
14. Build in bespoke cabinetry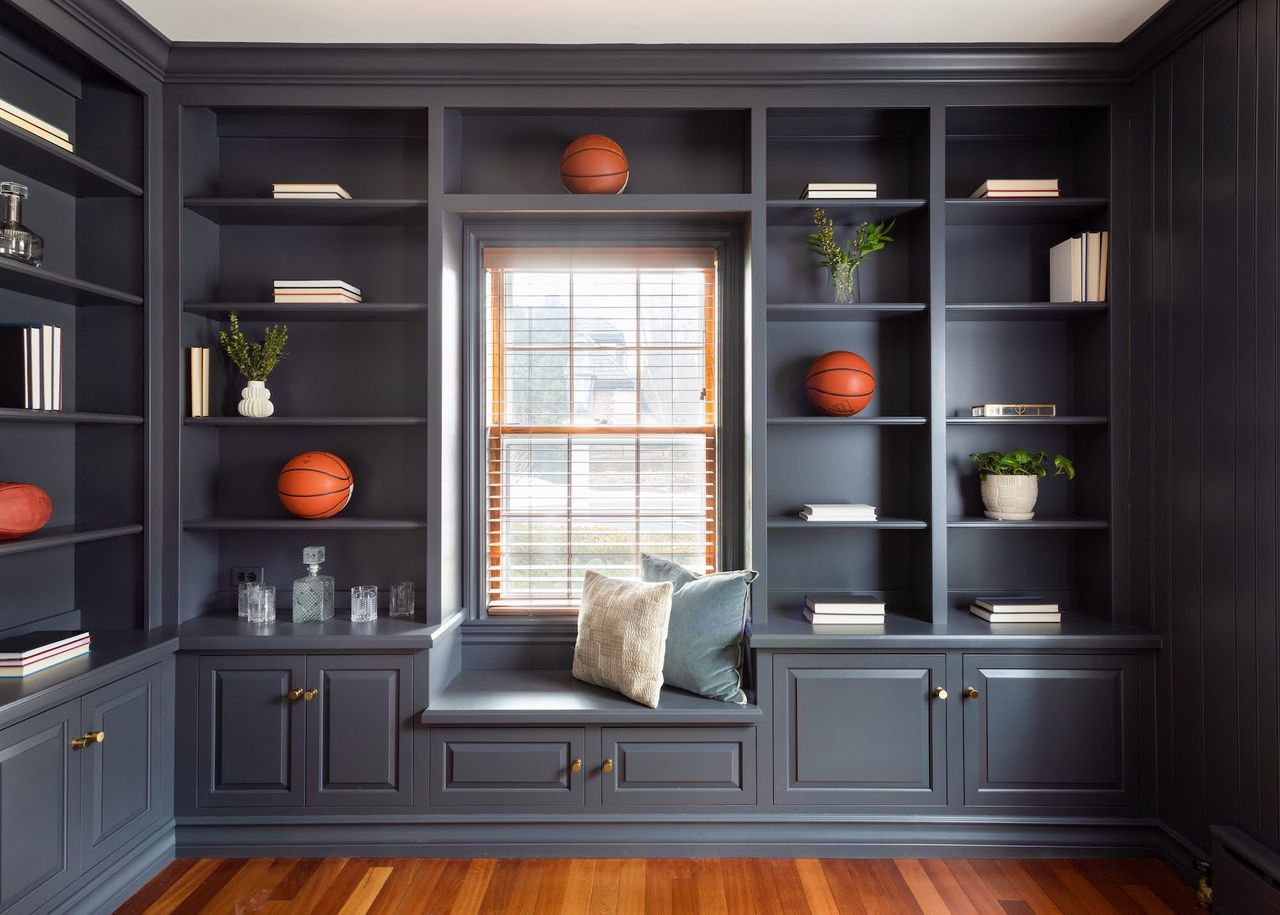 Take panelling to the next level with built-in cabinetry or bespoke joinery that neatly finishes a room. By choosing a mix of closed-in and open storage and shelving, you allow space to display accessories and keepsakes, as well as hiding away clutter. Choose a color scheme that fits with the New England theme for a cohesive look.
15. Go blue in the bathroom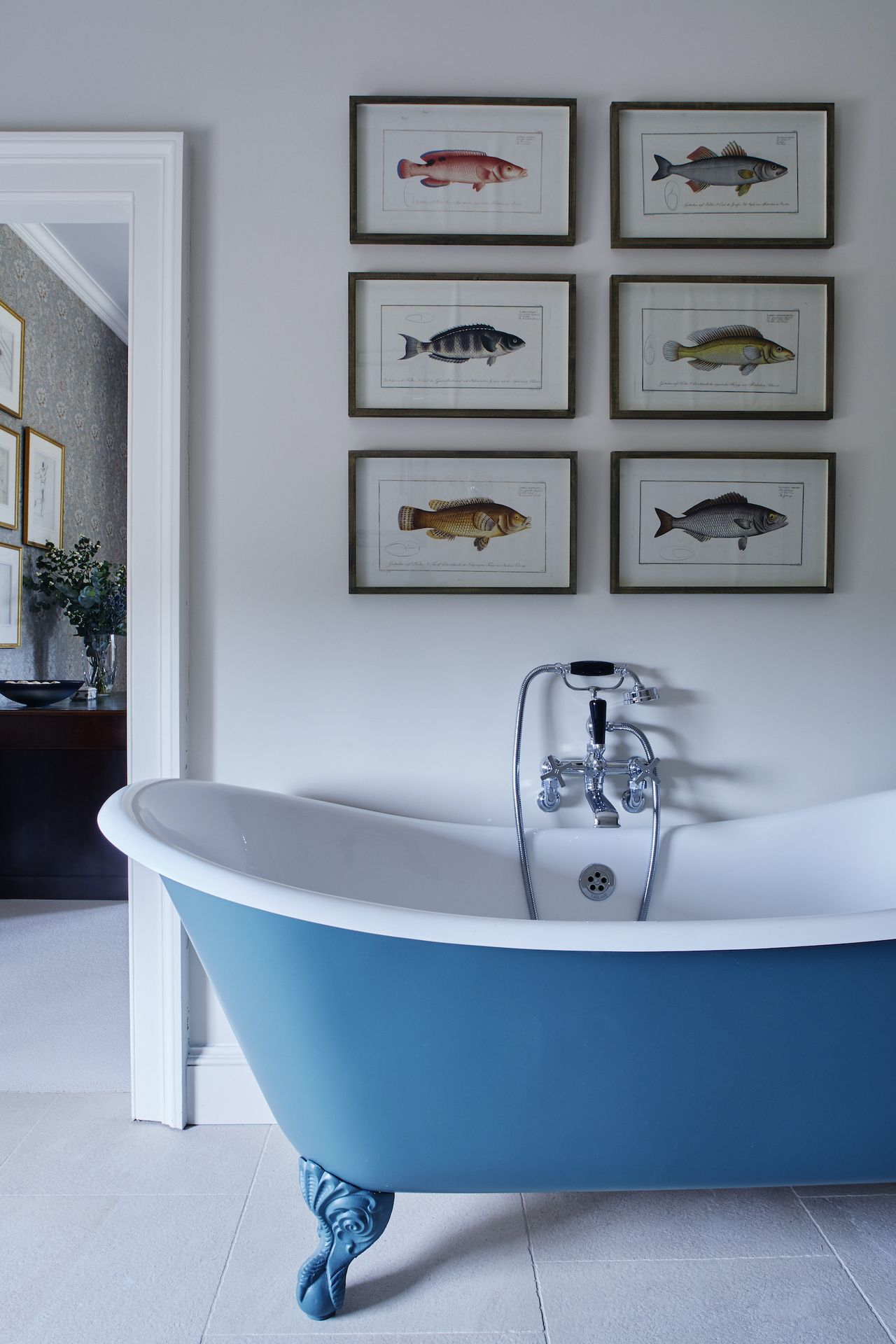 A bold color block of ocean blue can bring a coastal breath of fresh air to any interior. It could be the side of a bath, as here; a blue kitchen island idea; or even a blue couch that surfs the seaside look in your living room.
Match the tone of blue to your overall interiors theme. For New England coastal style, that might be a deep or mid-tone blue; for a Mediterranean take on coastal, it might be a brighter, clear shade. Shades of gray, from stormy to rainwashed, would also work well as a statement.
What is New England coastal style?
New England coastal style offers a smart, bold take on the traditional coastal look. While using many of the same colors, particularly blue and white, it opts for deeper navy and brighter white as a strong contrast, as well as shades of red and yellow.
Wood panelling across walls and ceilings is a key element, along with natural and polished wood finishes, painted panelling and natural fabrics.
Patterns include stripes, as well as nautical motifs.
What is the difference between nautical and coastal style?
Both nautical and coastal style are informed by the colors, textures and materials that form the landscape of sea and shore. But nautical adds in an extra design element inspired by maritime life – yachts and sailing, the heritage of steamships and ocean liners. That might include porthole shapes, rope details that reference rigging, polished deck flooring and brass or polished chrome details. There are also bold colors additional to the white and blue palette, including red, green and yellow.
'When designing a coastal-inspired space, feature shades of blue and natural textures, such as those found at the beach,' suggests Anna Franklin, interior designer and founder of Stone House Collective. 'Blue is an important element for these spaces as it reflects the different tones of the ocean, which is the key to coastal decor. 
'To furnish the room, think about furniture that will fit a casual, comfortable and relaxed aesthetic. Choose materials such as driftwood and light-toned woods, wicker, bamboo or rattan. Continue natural textures in a rug choice, like jute, to help ground the room; and ensure the space feels light and airy by amplifying the light sources – whether through windows or light fixtures. 
'By combining these elements, you will be able to create the ultimate coastal space.'